11 January 2018
Big Boys Toys continues into 2018
After raving reviews from customers, Freightliner is excited to announce that we will once again be taking ourselves on a roadshow around Australia for the Big Boy Toys customer loyalty events.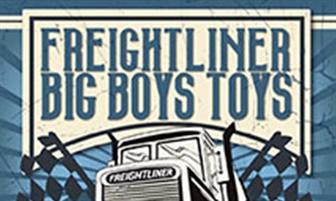 We look forward to upping the ante this year and expecting to get more customers with chromed up, muscle-brooding, shiny big boys toys! See the dates below for your nearest Big Boys Toys event in 2018;
28.02.2018 Clipsal V8 Round Daimler Trucks Adelaide
20.03.2018 Grand Prix V8 Round Daimler Trucks Somerton
18.04.2018 Phillip Island V8 Round Daimler Trucks Laverton
02.05.2018 Perth V8 Round Daimler Trucks Perth
16.05.2018 Winton V8 Round Hartwigs Trucks Albury
13.06.2018 Darwin V8 Round RGM Maintenance Darwin
04.07.2018 Townsville V8 Round RGM Maintenance Townsville
18.07.2018 Ipswich V8 Round Daimler Trucks Brisbane
02.08.2018 Sydney Motorsport Park Stillwell Trucks
03.08.2018 Sydney Motorsport Park Daimler Trucks Huntingwood
02.10.2018 Bathurst V8 Round West Orange Motors
16.10.2018 Gold Coast V8 Round Daimler Trucks Gold Coast
21.11.2018 Newcastle V8 Round Daimler Trucks Newcastle
We look forward to seeing you there!